FLEXIBLE

AND TAYLORED TO YOUR NEEDS
A professional Pre-Purchase Survey doesn't have to be expensive. In particular, when the costs are transparent and the included services are clearly understandable.
In order to meet your needs as individually as possible, you have plenty of options to  adapt the scope of testing and thus also the costs to the respective circumstances of your specific case.

And the best thing about hiring us is: in almost every case,  the fees our surveys pay off themselves through the savings which can be achieved on the basis of identified repair or service needs on the vessel.
FLEXIBLE SCOPE OF SURVEY
Taylored to your indivudual requirements
TRANSPARENT PRICING
Through clearly defined and binding quotes
FAST DELIVERY
Report issued within 48 hours
LONG TERM COMMITMENT
We will always be happy to assist you
With the "standard" test program you will  already get a very good impression of a vessel's condition while at the same time keeping the survey costs low. This variant is suitable e.g. if you are in an earlier phase of the selection procedure.
However, if your purchase intentions are already more focussed on a specific Yacht, you can flexibly choose from a list of advanced check points in order to get a really comprehensive status report (see sample report below).
All Survey Reports include:
a complete and thorough photographic documentation
a detailed list of defects
as well as recommended repair and maintenance measures.
Steering and Rudder System
Anchor and Mooring Systems
Water and Sanitary Systems
Cockpit and Navigation Systems
FRP Moisture / Osmoses Check
Cathodic Protection / Hull Potential
Repair / Refit Cost Estimation
The rates below apply to all Pre Purchase Surveys for yachts and boats in Italy and Croatia, up to a Length of 55 feet and an age up to 25 Years*.
Click the "INSTANT QUOTE" button to calculate your survey right online. For survey rates outside these parameters, please contact us.
PRE PURCHASE
YACHT SURVEY
[incl standard checkpoints]
extensive inspection programme

optional checks available
OSMOSES
CHECK
[incl moisture measurement]
CATHODIC PROTECTION
CHECK
[anodes and bonding system]
Ag/AgCl reference electrode

protection of all UW metals
All Prices include 20% VAT.
Additional Travel Expenses may apply depending on the Location of the boat.
*) For older boats, additional fees may apply (depending on the general condition).
**) Length over all according to the manufacturers specification.
***) Tramex Skipper Plus
THE FASTEST WAY
TO YOUR SURVEY QUOTE
With our online cost calculator, you can easily calculate the expected price for your personal pre purchase inspection yourself. Simply enter the data of the boat and select the desired scope of survey.
If you would like a binding offer (including travel expenses), you can request this in the next step with a simple mouseclick.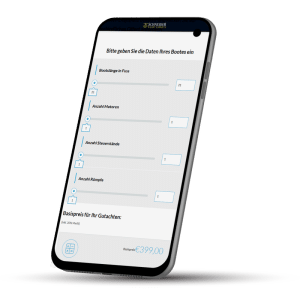 Our service for you does not end with the submission of the survey report
Whether it's about equipment, conversions or refits – we're always happy to help and assist you afterwards as well.